Music Albums » This is Ukulele Country
This is Ukulele Country
2006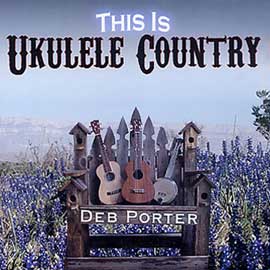 Track Titles
Hey Good Lookin'

1
(Hank Williams)
Bass: Bradley Kopp; Rhythm Uke: Bob Guz; Lead Licks: Andrew Hardin; Vocals: Debbie Porter

Act Naturally

2
(Buck Owens, Written by John Russell and Voni Morrison)
Ukulele, Lead and Harmony Vocals: Debbie Porter; Pedal Steel: Lloyd Maines; Bass: Bradley Kopp; Rhythm Uke: Bob Guz

I Fall to Pieces

3
(Patsy Cline, Written by Hank Cochran and Harlan Howard)
Ukulele, Lead and Harmony Vocals: Debbie Porter; Pedal Steel: Lloyd Maines; Bass: Bradley Kopp; Rhythm Uke: Bob Guz; Lead Uke; Andrew Hardin

Louisiana Girl

4
(Written and Performed by Debbie Porter)

Anytime

5
(Eddy Arnold, Written by Herbert Happy Lawson)
Ukulele and Vocals: Debbie Porter; Rhythm Uke: Bob Guz; Bass: Bradley Kopp; Rhythm: Andrew Hardin

Have I Told You Lately that I Love You?

6
(Jim Reeves, Written by Scott Wiseman)

I'm So Lonesome I Could Cry

7
(Hank Williams)
Ukulele and Vocals: Debbie Porter; Rhythm Uke: Bob Guz Pedal Steel: Lloyd Maines; Bass: Bradley Kopp

Your Cheatin' Heart

8
(Hank Williams)
Ukulele and Vocals: Debbie Porter; Rhythm Uke: Bob Guz Pedal Steel: Lloyd Maines; Bass: Bradley Kopp

Tennessee Waltz

9
(Patti Page, Written by Pee Wee King and Redd Stewart)
Ukulele, Vocals, and Yodel: Debbie Porter

Have You Ever Been Lonely?

10
(Jim Reeves and Eddy Arnold, Written by Sammy Fain, Irving Kahal, and Pierre Norman)
Ukulele and Vocals: Debbie Porter

I Really Don't Want to Know

11
(Jim Reeves, Written by Don Robertson and Howard Barnes)
Ukulele, Lead and Harmony Vocals: Debbie Porter; Pedal Steel: Lloyd Maines; Bass: Bradley Kopp; Rhythm Uke: Bob Guz

Singing the Blues

12
(Marty Robbins, written by Melvin Endsley)
Deb-Uke and Lead and Harmony Vocals; Rhythm Uke: Bob Guz; Lead Uke: Andrew Hardin; Bass: Bradley Kopp

Bye Bye Love

13
(Everly Brothers, written by Boudleaux and Felice Bryant)
Ukulele, Lead and Harmony Vocals: Debbie Porter; Rhythm Uke: Bob Guz; Lead Uke: Andrew Hardin; Bass: Bradley Kopp; Harmony Vocals: Laurie Singer

I Saw the Light

14
(Hank Williams)
Ukulele and Vocals: Debbie Porter; Rhythm Uke: Bob Guz; Lead Uke and Harmony Vocals: Andrew Hardin; Bass: Bradley Kopp
Sample the Music
Front Cover
The front cover is a photograph of a bench made from old fence posts and birdhouses sitting in a field of bluebonnets, behind which is a mountain range and clear-blue western sky. Three ukuleles stand on the bench – one made from blond wood, another of dark walnut, and the third (a silver-colored Dixie Banjo-Uke) made of metal.
Liner Notes
Deb Porter has proven that the ukulele and country music were made for each other. — Jumpin' Jim Beloff
The ukulele and the pedal steel each have their roots in the beautiful Hawaiian Islands. Though Jimmie Rodgers played ukulele on his records in the 1920s, the uke faded from country music. The steel guitar became a mainstay with many of the finest country classics instantly identifiable by the initial steel guitar licks. The great Lloyd Maines plays styles of Tom Brumley, Buddy Emmons and others who made the pedal steel famous.
Saturday nights in Mooringsport, Louisiana were spent dancing in the kitchen with my grandmother to the music of Webb Pierce, Faron Young, Jim Reeves, Johnny Cash, Elvis and other country artists broadcast from the Louisiana Hayride only 20 miles away in Shreveport. Many of these performers hung out during the day at Stan's Record Shop and I remember Webb Pierce calling across the store for my grandmother to come listen to his latest recording. I dreamed at this early age of making a record of great country tunes.
Acknowledgements
This recording was a joy to make and I'd like to thank Bradley Kopp at Red Boot Ranch for engineering, playing bass, throwing in a harmony vocal, and for introducing me to Lloyd Maines. Much gratitude goes to Lloyd for playing pedal steel and having a good time with us ukulele players. As always Andrew Hardin was great and got notes out of soprano ukulele that we didn't know were there. Thanks to Bob Guz for leading the rhythm section, especially on "Hey Good Lookin." Thank you to Lorrie Singer, a great vocalist, and to Gigi Benno, for contributing harmony to the project. And always thank you to my husband, Richard for playing harmonica.
Jim and Liz Beloff deserve special thanks for encouraging me to record these wonderful country songs and for promoting the ukulele world wide. http://www.fleamarketmusic.com
This recording is dedicated to my beautiful, talented daughter, Autumn Lyric—always the song in my heart.