Sentimental Journey
2002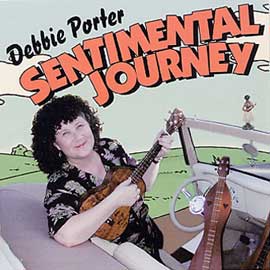 Track Titles
Sentimental Journey

1
(Les Brown, Ben Homer, Bud Green)
Baritone Dulcimer and Vocals: Debbie Porter; Harmony Vocals: Debbie Porter and Adie Grey; Guitars: Dave MacKensie; Lead Licks on Soprano Uke: Andrew Hardin

White Cliffs of Dover

2
(S. Joseph)
Baritone Dulcimer and Vocals: Debbie Porter; Harp Guitar: Stephen Bennett; Accordion: Clive Gregson

My Buddy

3
(Walter Donaldson, Gus Kahn)
Tenor Uke and Vocals: Debbie Porter; Tiple: Andrew Hardin

Yesterday's Treasures

4
(Sam Stone)
Baritone Dulcimer, Lead and Harmony Vocals: Debbie Porter; Dulcimers: Sandy Conatser, Lee Rowe, and Lloyd Wright

Heartaches

5
(John Klenner, Al Hoffman)
Lead Vocals: Debbie Porter; Harmony Vocals: Adie Grey and Debbie Porter; Piano: Ron Clinton

What'll I Do

6
(Irving Berlin)
Tenor Uke and Vocals: Debbie Porter; Mandolin: Clive Gregson

I Don't Know Why I Just Do

7
(R. Turk, F. Ahlert)
Vocals: Debbie Porter; Harp Guitar: Stephen Bennett

Fraulein

8
(Lawton Williams)
Dulcimer and Vocals: Debbie Porter; Dulcimer: David Schnaufer; Harmony Vocals: Adie Grey; Bass Dulcimer: Lee Rowe

Far Away Places

9
(J. Whitney, A. Kramer)
Dulcimer and Vocals: Debbie Porter; Accordion and Guitar: Clive Gregson

Nobody's Darlin But Mine

10
(Jimmie Davis)
Dulcimer and Vocals: Debbie Porter; Dulcimer and Harmony Vocals: Lloyd Wright; Harmonica: Richard Porter

Down Yonder

11
(L. Wolfe Gilbert)
Schnaufer Model McSpadden Dulcimer: David Schnaufer

Get up and Go

12
(Pete Seeger)
Dulcimer and Vocals: Debbie Porter; Harmonica: Richard Porter

How Deep is the Ocean

13
(Irving Berlin)
Tenor Uke and Vocals: Debbie Porter

Cry Me a River

14
(Arthur Hamilton)
Vocals: Debbie Porter; Piano: Ron Clinton

Don't get Around Much Anymore

15
(Duke Ellington, Bob Russell)
Vocals: Debbie Porter; Guitar: Stephen Bennett

Going Home

16
(Traditional)
Vocals: Debbie Porter; Harp Guitar: Stephen Bennett

We'll Meet Again

17
(Ross Parker, Hughie Charles)
Vocals: Debbie Porter; Harp Guitar: Stephen Bennett

We'll Meet Again

18
(Reprise)
Piano: Ron Clinton
Sample the Music
Front Cover
The front cover is styled like an old "Greetings from (fill in the blank)" travel postcard. An illustration of a meadow with a peaceful blue sky serves as the background. In the foreground, Deb sits in an illustrated 1930s roadster convertible strumming a ukulele. Two dulcimers lean against the dashboard on the seat next to her. A dashboard ornament of a hula boy wearing a grass skirt sits on top of the windshield and Deb's silver descending dove necklace hangs from the rearview mirror.
Liner Notes
This collection of tunes has truly been a Sentimental Journey beginning with a wonderful exploration of WWI and WWII songs and evolving into a realization of my own musical history and the songs that were loved by my parents and grandparents. May you enjoy the journey and the memories these songs evoke.
In the process of recording a new album, I rediscovered an old friend, the ukulele. That was my first instrument as an eleven year old and one that I played all through high schools on buses to basketball games and in student talent shows. Although I went on to learn the banjo and guitar it was not until I found the fretted dulcimer that I actually fell in love with an instrument as deeply as the ukulele. It was great to get the opportunity to play both of these instruments on this recording.