Grace is Amazing
2002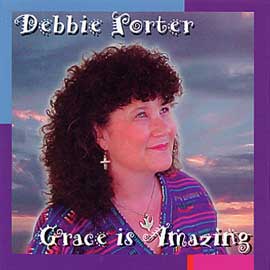 Track Titles
Wings of a Dove

1
(Bob Ferguson)
Harp Guitar: Stephen Bennett; Dulcimer: David Schnaufer; Lead Vocals: Debbie Porter; Harmony Vocals: Adie Grey and Debbie Porter

Softly and Tenderly

2
(Traditional)
Harp Guitar: Stephen Bennett; Lead and Harmony Vocals: Debbie Porter

His Hand is Mine

3
(Mosie Lister)
Slide Guitar: Stephen Bennett; Vocals: Debbie Porter

My Mother's Faith

4
(Kasia Livingston)
Standard Dulcimer: Debbie Porter, Chromatic Dulcimer: Sue Carpenter; Vocals: Debbie Porter

Poor Wayfaring Stranger

5
(Spiritual)
Guitar: Stephen Bennett; Vocals: Debbie Porter

Just a Closer Walk with Thee

6
(Thomas A. Dorsey)
Dulcimer: Steve Seifert; Clarinet: Beth Shelton; Vocals: Debbie Porter

Nearer My God to Thee

7
(Sarah Fuller Adams)
National Steel Guitar: Stephen Bennett; Vocals: Debbie Porter and Shake Russell

Touch of the Master's Hand*

8
(Poem by Myra Brook Welch, Music by Sally Rogers)
Bass Dulcimer and Vocals: Debbie Porter, Violin: Rich Roberts

Farther Along

9
(Traditional)
Dulcimer: Steve Seifert; Harmonica: Richard Porter; Banjo: Tom Pittman; Vocals: Debbie Porter

In the Garden

10
(Austin C. Miles)
Hammered Dulcimer: Maddie MacNeil; Vocals: Debbie Porter and Maddie MacNeil

In the Sweet By and By

11
(S. Fillmore Bennett and J.P. Webster)
Dulcimer: Debbie Porter; Autoharp and Bass: Neal Walters; Vocals: Debbie Porter, Neal Walters, and Coleen Walters

Grace is Amazing

12
(Music and Lyrics by Debbie Porter)
Piano: Ron Clinton; Flute: Beth Shelton; Vocals: Debbie Porter

Amazing Grace

13
(John Newton)
Harp Guitar: Stephen Bennett; Vocals: Debbie Porter, Adie Grey, and Shake Russell
Sample the Music
Front Cover
In a photograph on the front cover, Deb beams a smile to the sky. She is wearing a multi-colored Mexican shirt, her silver descending dove necklace, and silver cross earrings. In the background is a view of a sky during sunrise, the light from which frames Deb's curly brown hair.
Liner Notes
Heavenly Father, we praise Thee for teaching us Mercy
Help us approach Thee with pure heart and motives sincere
Show us the danger of living unconscious of Thy Will.


In praising we find Grace Divine and Grace is Amazing!

Heavenly Father, we praise Thee for teaching us Patience
Help us to help those who suffer, give us sympathy
When we have wronged give us Grace to confess all to Thee


In praising we find Grace Divine and Grace is Amazing!


Heavenly Father, we praise Thee for the gift of Life
May we use this precious gift
To reflect your light


Heavenly Father, we praise Thee for teaching thanks giving
Bless our homes and our work, friends and family
Inspire us and strengthen so we may Glorify Thee


In praising we find Grace Divine and Grace is Amazing!

May you find Grace in God's sight each day of your life, one day at a time... and may God grant you the Serenity to accept the things you cannot change, the Courage to change the things you can, and the Wisdom to know the difference.
For by Grace you have been saved through faith; and this is not your own doing, it is the gift of God- not because of works, lest any man should boast. (Ephesians: 2:8-9)
This recording project was a labor of Love and Grace and is offered in a Spirit of Gratitude to God for the many blessings of my life and that of my family.
I am grateful to the wonderful musicians who helped me with this recording: Stephen Bennett who shared the voices of his beautiful guitars;, David Schnaufer who arranged "Wings of a Dove" and played dulcimer; and to Steve Seifert, Maddie McNeil, Neal and Coleen Walters, Sue Carpenter, Adie Grey, Beth Shelton, Tom Pittman, Ron Clinton and Richard Porter. Special Thanks to Shake Russell.
Thank you to J.Gary Smith in Nashville and Bobby Arnold in San Marcos for access to wonderful recording studios. Thanks to Sandy Conatser, Maddie MacNeil and GiGi Benno for opening their homes to me and to the musicians playing on this record.
The song Wings of a Dove is lovingly dedicated to my father. Where ever I performed, he would join me onstage to sing this song. Dad was a boatman, which is why I think he always loved this story. "But Noah found Grace in the eyes of the Lord." (Genesis 6:8) The descending dove necklace that I have worn for over 20 years is by James Avery Craftsmen in Kerrville, Texas and appealed to me years ago as a reminder of this song.
I offer a special thanks to my friends and family for their ongoing support of my musical effort. Rich, Lyric and Mom; Mike, Uncle Buddy, all my cousins and great aunts and uncles who love these songs; Lee and Shan; and Robin. I am grateful to Martha Collins who brought His Hand in Mine to me all the way from Graceland and to Elaine Beason who spent hours listening to old hymns as we carpooled. Gratitude always to the dulcimer community, especially the members of the Northeast Texas Dulcimer Chorus, Janice, Al and Shirley, and the Wright Family. Grace is Amazing was written in Galveston on the wonderful boat of Jayne and Lee Davis. Thanks for being such a good friend to my mom. Thanks to Shanny for her artistry and spiritual gifts.
My husband I would like to express heartfelt gratitude to Dr. Peter Malet and the medical staff of Southwestern Medical Center in Dallas. If you had a blood transfusion prior to 1990, please have a blood test to determine if you were exposed to Hepatitis C or other disease transmitted through contaminated blood. Because of the research efforts of Dr. Malet and others, there is hope and the possibility of recovery.
Thank you for listening. I hope that you will add your voice to this music. All voices are welcomed. I would love to hear from you. Enjoy!
The Peace of God to you This Day.