Tablature Books » Carter Family Tunes Arranged for the Fretted Dulcimer
Carter Family Tunes Arranged for the Fretted Dulcimer
2006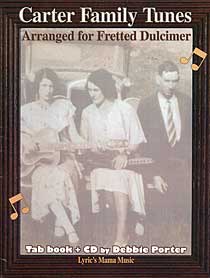 Track Titles
Are You Tired of Me, My Darling?
Bury Me Under the Weeping Willow
Can the Circle Be Unbroken
Give Me the Roses While I Live
Gold Watch and Chain
Happiest Days of All
Keep on the Sunny Side
I'm Thinking Tonight of My Blue Eyes
Little Darling Pal of Mine
Storms Are On The Ocean
Wabash Cannonball
Worried Man Blues
Preview the Tablature
Front Cover
The front cover shows a dark brown wood frame containing a sepia photograph of the Carter Family sitting at the front bumper of an old car. Sara Carter is in the center holding an autoharp. She is looking towards her cousin Maybelle Carter, on her left, who is playing a guitar. A.P. Carter, sitting on Sara's right, looks at the camera.
Liner Notes
If you travel to the Birthplace of Country Music Museum in Bristol, Tennessee/Virginia, you'll find great information about the Carter Family who were discovered there along with Jimmie Rodgers at the historic 1927 "Bristol Sessions."
At the same museum, you'll also see the Mountain Dulcimer made for Mother Maybelle Carter by legendary dulcimer builder Bob Mize. I imagine many of the old tunes collected by the original Carter family were written and played on the mountain dulcimer in the holders and mountains of Appalachia. With the renewed interest in the Carter Family, it seemed like a great time for Carter Family Tunes Arranged for the Fretted Dulcimer. Hope you enjoy and always try to "Keep on the Sunny Side!"